Seri 608 bantalan untuk skateboard
Sebagai produsen bantalan profesional, kami menyediakan berbagai ukuran, bahan, dan jenis bantalan bola, bantalan pintu geser, dan bantalan jendela geser 609. Selain bantalan bola nimiature 609, kami memasok 6000 seri bantalan bola dalam alur, dan bantalan bola dalam alur lainnya 6200, 6300, 6800, 6900 seri, bantalan non standar disesuaikan dapat disediakan, OEM, ODM layanan disediakan oleh NMN.
Brand

NMN or as your requirements

Material

Chrome steel, Carbon steel, Stainless steel

Seal type

Open, Z, ZZ, RS, 2RS etc

Color

Various colors, customized

Logo

Can be customized

Precision

ABEC-1, ABEC-3, ABEC-5, ABEC-7

Clearance

C0,C1,C2,C3,C4,C5 etc.

Noise

Z1,Z2,Z3,Z4

Vibration

V1,V2,V3,V4

Delivery time

3-35 days after receive the prepayment, according to the quantity

Payment term

T/T, paypal, western union, money gram, L/C

Package

1, plastic bag + outer carton + pallet

2, single box + outer carton + pallet

3, tube package + box + carton + pallet

Or according to your requirements
bantalan bola miniatur 604 605 606 607 608 609 623 624 625 626 627 628 629 693 694 695 696 688 689 dll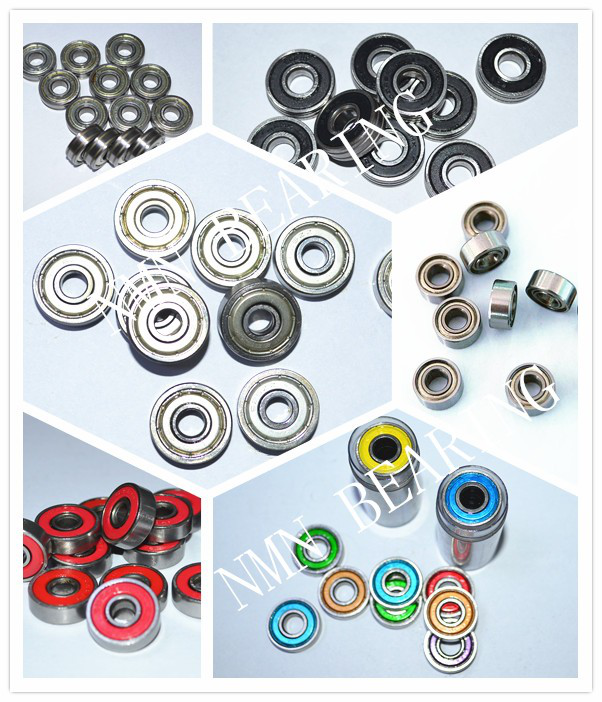 Pemakaian:
Single row deep groove ball bearing digunakan dalam berbagai aplikasi, desainnya sederhana, tidak dapat dipisahkan, cocok untuk kecepatan tinggi dan kuat dalam operasi, dan membutuhkan sedikit perawatan. Deep raceway grooves dan kesesuaian yang erat antara groove raceway dan bola memungkinkan bantalan bola dalam alur untuk mengakomodasi beban aksial di kedua arah, di samping beban radial.
Pengemasan:
1. kantong plastik + karton luar + palet
2. satu kotak + karton luar + palet
3. paket tabung + kotak + karton + palet
4. sesuai dengan kebutuhan Anda
bantalan 608: 2000 pcs / karton
bantalan 6204: 250pcs / caton 25tube, tidak ada kotak kertas
bantalan 6000.6001.629: 1000 pcs / karton
bantalan 626: 2000 pcs / karton atau 4000 pcs / karton
Kontak:
Bearing Data - General

6000 Series Deep Groove Ball Bearing
6200 Series Deep Groove Ball Bearing
6300 Series Deep Groove Ball Bearing
6800 Series Deep Groove Ball Bearing
6900 Series Deep Groove Ball Bearing
Inch Series Deep Groove Ball Bearing

Povided By Naimei Bearing - Pabrik bantalan bola khusus selama sekitar 20 tahun,

Layanan OEM disediakan dan disambut,

Kualitas bantalan terbaik, harga bantalan kompetitif, Layanan premium,

Pengiriman cepat, selalu kualitas yang sangat baik,

Semua untuk klien
Kategori Produk : Miniatur Bearing